Following the convenings, white paper, and virtual panel, our team created a "Next Steps Survey" asking those who had been involved in any part of the OB COVID work to share what they felt would be most helpful for future directions of this work. We asked participants to rank which innovation categories would be most helpful in their setting, which would be most feasible in their setting, and what materials would be useful for them to move this work forward.
We found it particularly interesting to look at the disconnect between what our participants ranked as the top innovation categories that were "most helpful" versus those they ranked as "most feasible." Specifically, while two thirds of respondents ranked "Build Trust and Enhance Communication" as most helpful for their communities, only half of respondents ranked this category as feasible to implement in their communities.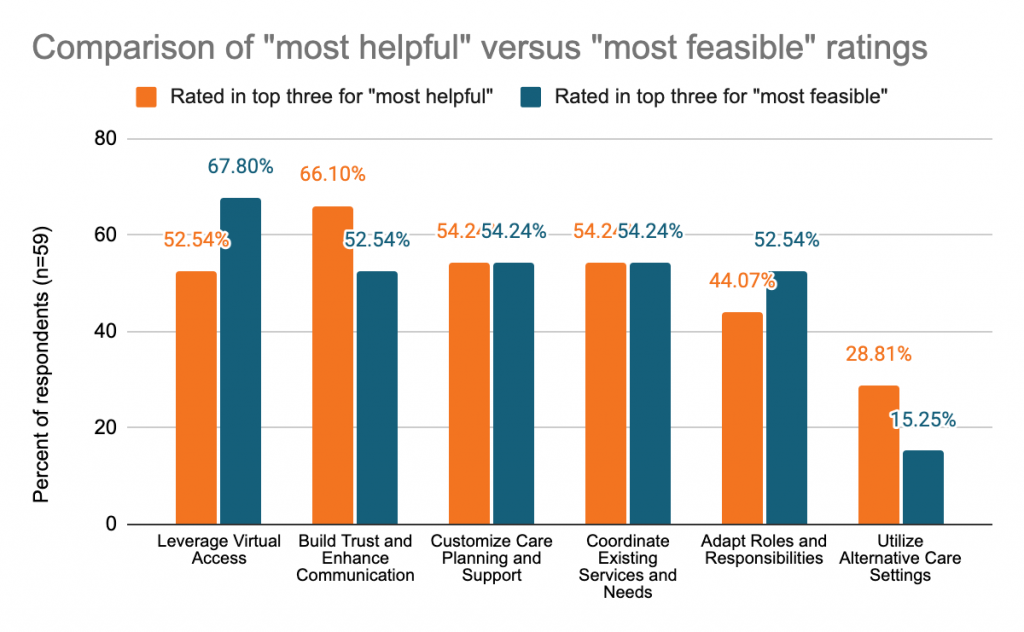 Our team views this as our next call to action: the collaborative made clear that people who give birth do not need to become more trusting—the systems for childbirth need to become more trustworthy. Moreover, if every system is perfectly designed to get the results that it gets, trustworthiness needs to be regarded as more than a virtue that separates "good" and "bad" people. Trustworthiness must also be treated as an output of systems that are either functions or not functioning. Our next steps are to identify, analyze, and amplify innovations that promote trust and enhance communication in maternal health.
Contact Us
This work is dynamic and collaborative. If you are interested in getting involved in this work or want to learn more, please fill out this form.